The Rotterdam Experience: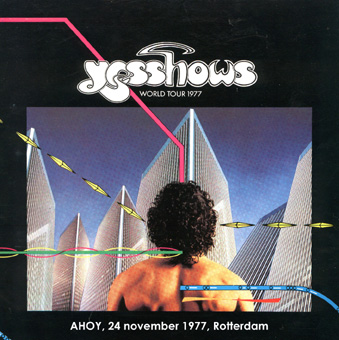 24 & 25 November 1977:


About a week after the concert I received a 2 cassette package contaning the full 24 november concert in questionable (B-) quality. However, being one of the very few Yes concerts I had, I listened to it very much.

With the internet, the surprise was great when spotting a A- quality rated tape of the same concert. I ordered it and in fact the quality was much better than I had. So for this, this must be the ultimate Yestape to have.

Unfortunately the new tape I acquired has a lot of omissions, at the start of the concert, at the end, in between tracks and even quite a few cuts in tracks.

So I sat up at the task restoring the full concert from the sources I have. As a pleasant circumstance the Firebird opening and Parallels are available at the official Yesshows recording.

I've recreated the full concert, mostly from the A- tape, but I had to put in some parts of the B- tape. Note that the tapes are from a different source.

To let you follow what I've done and not be disappointed by some quality differences, here's the full editing list:

CD1, Tracks 1 & 2: From the official Yesshows CD.
CD1, Tracks 3, 4 (first 4 minutes), 6: From the B- tape.
CD1, Tracks 4 (16 minutes), 5, 7, 8, 9, 10, 11: From the A- tape.

CD2, Track 1 (first minute): From the B- tape.
CD2, Track 1 (last 4 minutes), 2, 3, 4: From A- tape.

A few snippets from the B- tape had to be interspersed in the above A- tape, most notably on the first disc at the first and last bar of And You and I and about 30 seconds in Going for the One. On the second disc a small part of Awaken (middle section) and the end of Yours is no disgrace was also interspersed.

It was a lot of work to do, but a nice job indeed, restoring what is possible from this remarkable concert, sometimes nominated for the best Yes concert ever. I hope you enjoy listening to the result and forgive the edits I had to do.

A last word to Chris Squire perhaps: Why don't you release this concert as a whole, from the Yesshows CD we know it was recorded in excellent quality.